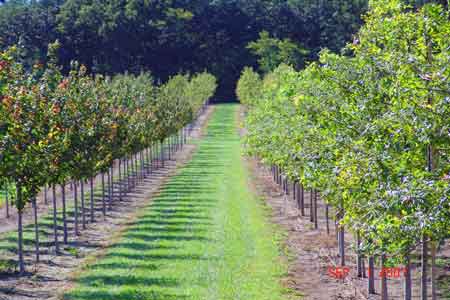 Our Mission . . .
To utilize quality plant material in order to grow specimen deciduous, ornamental, evergreen, and fruit trees. Additionally, shrubs, grasses, and perennials are grown in order to provide a complete landscape plant material list for use by landscapers, retail garden centers, re-wholesalers, developers, golf courses, and municipalities.
It is our focus to grow these plants to our standards, which many times exceed national standards and to do it efficiently so as to provide our customers with competitively priced plants.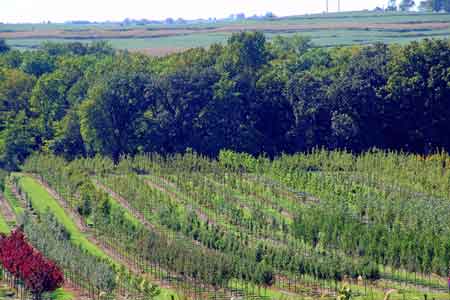 Our Nursery . . .
320 acres of fertile Nodaway River valley soil which grows :
- 246 varieties of trees.
- 275 varieties of shrubs.
- 29 varieties of ornamental grasses.
- Hundreds of perennials.
All plants are on computer controlled drip irrigation, protected from wildlife by a 9' fence, covered by an Integrated Pest Management system, inspected annually by the State of Iowa, fertilized, pruned and trained to meet or exceed industry standards.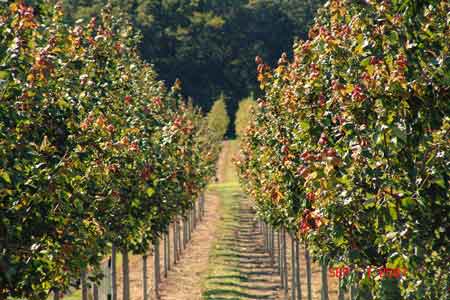 Our Products and Services . . .
- Shade Trees, Ball and Burlap (B&B), Container
- Ornamental Trees, B&B, Container
- Fruit Trees, Container
- Evergreen Trees, B&B, Container
- Shrubs, B&B, Container
- Firewood, well seasoned, measured and sold by the cord
- Planting
- Seeding including Hydro Seeding
- Landscaping, Landscape Renovation and Tree Care
- Windbreaks
- Delivery